Going to a river cruise needs preparation. You will not simply board to the ship and start sailing. You may cruise a river, a sea or an ocean, but you need to consider many things before you finally start your journey. On this cruise, it will be best to ask help from travel agents, so that you can have a tour guide, who will let you know more things about your cruising. For some people, cruising is quite luxurious, but that is not always the case because you can find companies that offers cheaper fees with the same quality of services.
Whenever you are thinking about cruising a river, the one that you must choose is the Mekong River. Why in Mekong River? This is one of the most traveled and most popular cruises in the Southeast Asia. Many tourists from different countries come to Vietnam, Laos, Thailand, Myanmar, Cambodia or China just to start their Mekong River cruise tour. This is the most chosen river, so, why not give it a try?
The first thing that you need to consider when cruising the Mekong River is the time of the year. You have to know when to come for a cruise. The best time that you should choose when cruising the Mekong River is from the months of November to January because this season is cooler than the other months. The season is dry, so this time is advisable and recommended.
What's next? You have to select a travel agent where to book your Mekong River cruise. From their catalog, you also need to choose the number of days that you would like to spend for your Mekong River cruise. There are usually 2-day trips, 3 days to spend and a maximum of 7 days. The choice is yours because that will depend on your budget. If you are after the exploration and discovery, you will surely want to choose the longer days, so that you can have more time cruising the Mekong River.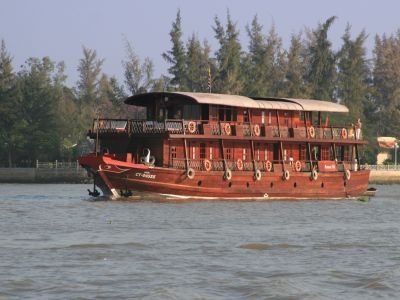 Next, where would you like to cruise along the Mekong River? Would you like to arrive or depart to from Cai Be or Canto on the Bassac Cruise or the Le Cochinchine Cruise? Would you like to spend the tour just in Vietnam or would you like to go beyond the neighboring countries, such as, Laos, Cambodia, Thailand or Myanmar? You have to ask the travel agency or the company about the availability of the Mekong River Cruise. Everything will depend on how much you would like to spend, how far you would like to go and how long you would like to take the cruise.
It is also good to know about the tourist spots that you are going to check out while on your cruise. From time to time, you may be visiting some villages, move to local boats, go shopping, see the floating market, cruise the canals or river banks, talk to people, enjoy the scenery and eat the Vietnam delicacies. Whatever you want to ask from your travel agents, must be asked before going to the cruise. It will also be a good idea to ask about travel insurances, if it is available and about safety on board.
When you are ready and well equipped about the Mekong River Cruise, then start booking for your flights and get your Mekong River Cruise tour. This will surely be one of the most memorable experience that you will have because not everybody can afford to cruise this historic and popular river. So, if you have the opportunity to cruise the Mekong River, then do not miss this chance to pass.